What you're getting...
With every transcript produced, you can expect:
A .pdf copy and exhibits linked within

A word index
Exhibits copied and attached
Need anything else? Please just ask and we'll accommodate.
---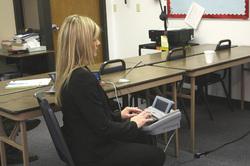 Kelly Pieper, the heart and soul behind Tri-State Court Reporting, is certified in Iowa, Illinois and Missouri. She is also a Registered Professional Reporter, a designation given to highly-trained reporters by the National Court Reporters Association upon completion of testing. Kelly completed the Realtime Reporting program at AIB College of Business in Des Moines, Iowa, and has since worked in the St. Louis metropolitan area, the Quad Cities and, currently, in southeast Iowa, where she makes her home.

In the event Kelly is not personally able to cover your deposition, she has a strong network of independent certified reporters. We pride ourselves on working together, locally, to provide the best service.
---